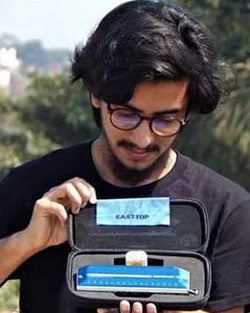 Asad Chowdhury Anee
HARMONICIST
I am the only professional harmonicist from Bangladesh. I have been playing this amazing instrument since 2013 and also teaching harmonica for 4 years. I have almost 200 students along the whole country.
EDUCATION
JAMALGONJ GOVT COLLEGE
2016 - 2018
Higher Secondary Certificate(HSC)
GPA- 3.89 out of 5.00. Faculty- Humanities
MADAN MOHAN UNIVERSITY COLLEGE
2018 – 2022 (Expected)
Studying BSS(HONS), 2 nd year
Department of Political Science
WORK EXPERIENCE
JOLER GAAN is a renowned Bengali FOLK BAND of Bangladesh. I am also a part of this popular band as I play harmonica with this institution.
M RECORDS , HARMONICIST
M RECORDS is a Bangladeshi music studio. I work here as a solo harmonica artist.
SMRITICHARON, HARMONICIST
SMRITICHARON is a local band of my town, Sylhet. I am the harmonicist of the band and also play flute and melodica as needed.
Sunday,Monday,Tuesday,Wednesday,Thursday,Friday,Saturday
January,February,March,April,May,June,July,August,September,October,November,December
Not enough items available. Only [max] left.
Add to Wishlist
Browse Wishlist
Remove Wishlist